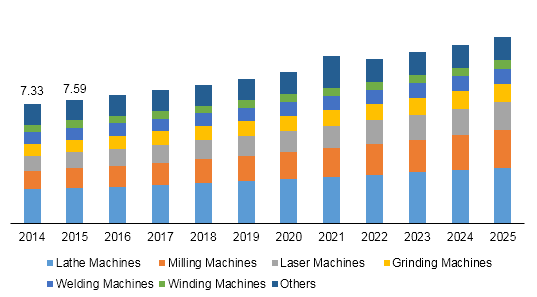 CNC Turning Machines are an important part of the manufacturing process. If you are a machine dealer or own a machine shop of any sort, it is important to keep an eye on the landscape of the business. While no one knows the future, one can look into the past, notice trends, and reasonably set goals that are achievable and sustainable. From a report created by hexaresearch.com they take a look at the upcoming CNC Turning Machine's projected market value through 2025. Below is a summary. You can see the whole report here.
The US market value in 2016 for CNC Turning Machines was estimated at 7.88 billion USD and has been projected to continue to grow more than 4% from 2017-2025. Automation processes are likely to improve and result in lower human errors that may cause downtime or inefficiency. This increase in productivity should affect growth. There has also been an increase in mass-produced items, so that may attribute and fuel the industry's growth.
The Internet of Things (IoT) will most likely lead to software being developed that allow CNC machines to be more compatible with PCs and smart devices. This change could eliminate the need for multiple positions or supervisors, which decreases the workforce, but gains profits for the company. With greater connectivity, faster and more efficient outcomes should be the result.
To look deeper at a few different segments within CNC Machining, lathes are expected to maintain their position on top of the hierarchy. Due to being able to handle complex operations, the versatility will make for higher demand in the 2025 forecast period. Milling machines should grow at a faster pace with the increase in the use of Computer-Aided Manufacturing (CAM) to help improve accuracy and efficiency.
Overall, the world of CNC machining is approaching a very intriguing time and boom in technology. Today's machines are becoming smarter, faster, and more efficient by the day, and with so many companies out competing for their market share, I don't expect the growth or innovations to stop any time soon.
When it comes to Used CNC machines, however, look no further than HGR Industrial Surplus. When those companies upgrade their equipment to new machines, they have to do something with their old machinery. They aren't going to throw it out, and scrapping it involves too many hands and too much time. So what do they do with it? They sell it to HGR Industrial Surplus and maximize their Return on Investment (ROI). Why would you want old machinery when everything is trendy towards new technology? Cost. Not everyone is a major corporation that can follow the current technology trend at the breakneck speeds it moves at. But their need for new technology is your gain. If the machines fit your applications, you can save thousands by using HGR as your resource for used machinery. You may have an older machine that needs to keep running and you're having a hard time finding parts. HGR may have that machine. Why not have a salvage machine to pilfer parts from when needed? The uses are endless. So don't waste time and start shopping for your future now! hgrinc.com